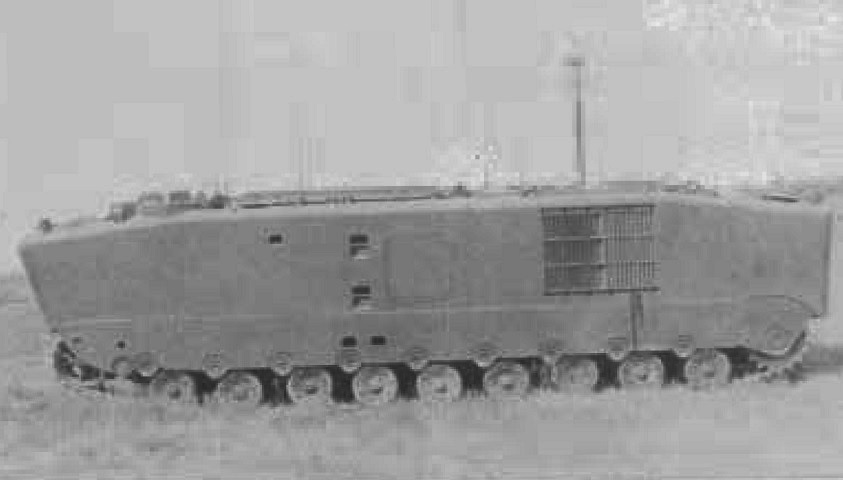 Although faint in this image, there are several radio antennas and a larger mast rising from the roof of this vehicle. Otherwise, it was externally similar to the LVTP5. (Picture from Research, Investigation and Experimentation in the Field of Amphibian Vehicles.)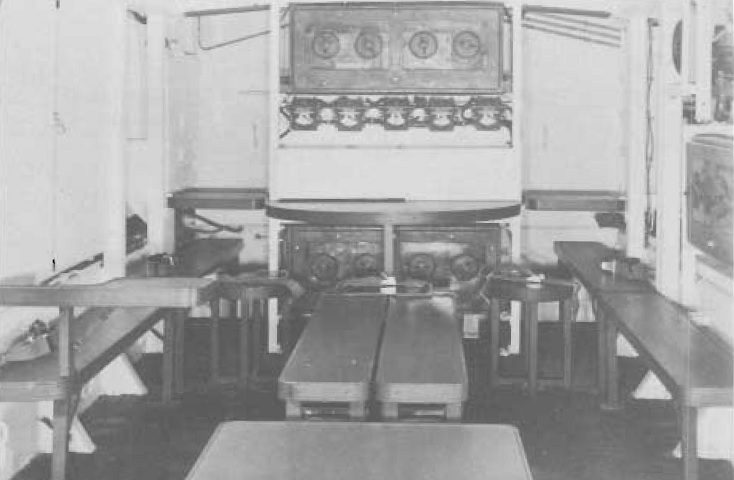 Internally, however, there were important differences. The radios were installed into two racks, one in front of the engine compartment bulkhead and another behind the driver above the port track channel. Troop seats, writing surfaces, and two stools were provided for the six radiomen. Three radio operators sat on the inboard troop seats with one just behind the assistant driver and one on each side of the radio rack. The other three radio operators sat in front of the rack, with one on the inboard troop seats and two on stools mounted between the troop seats. The radio operators were all provided with seat belts. In this image, the radio rack in front of the engine compartment bulkhead is at center, and the port rack is visible to the right of the image. The seat belt for the radio operator behind the assistant driver can be seen at the extreme left of the image, below the writing table. (Picture from Research, Investigation and Experimentation in the Field of Amphibian Vehicles.)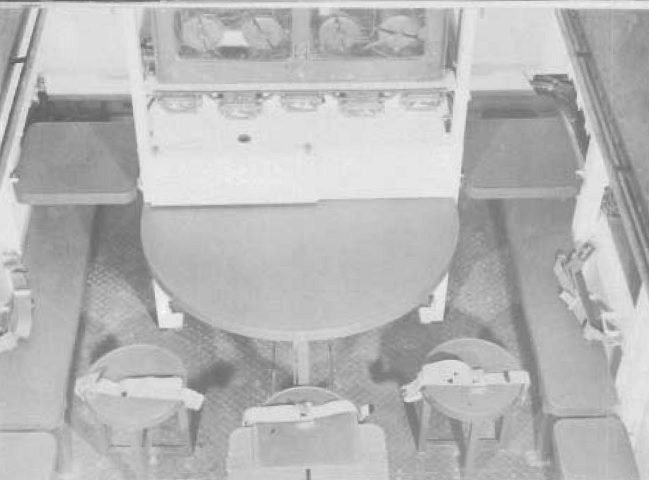 This picture is looking downward at the radio rack in front of the engine compartment bulkhead. The positions of the other five radio operators can be discerned in this image from the positions of their seat belts. (Picture from Research, Investigation and Experimentation in the Field of Amphibian Vehicles.)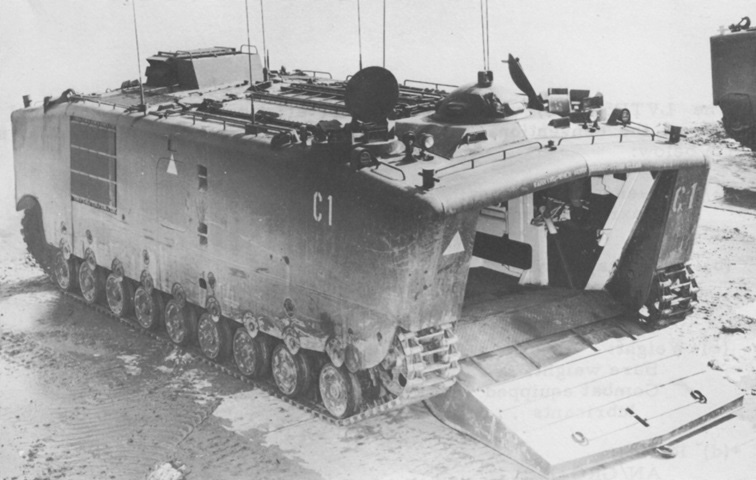 The bow ramp is open on this machine, and the housing on the roof typical of -A1 vehicles can be seen. (Picture from FMFM 9-2 Amphibian Vehicles.)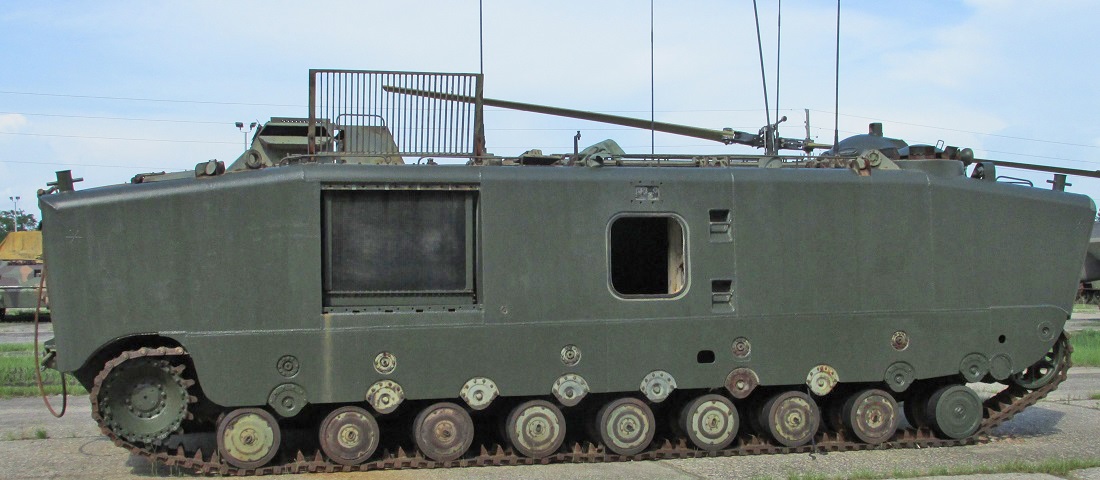 Externally indistinguishable from an LVTP5A1 except for the numerous antennas emerging from its roof, this LVTP5A1(CMD) is missing its starboard escape hatch door as well as the protective grille for the engine radiator. The housing for the modified air intake and exhaust can be seen behind the raised radiator air intake grille on the vehicle roof.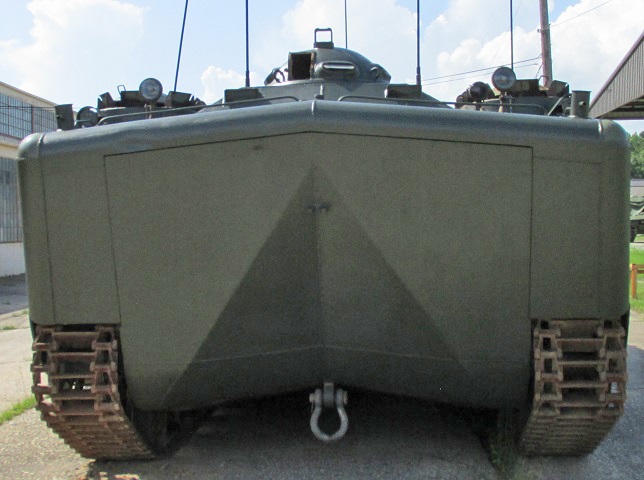 The machine gun cupola is fitted, but the machine gun mount itself is missing. Vision blocks are in the superstructure in front of the cupola. The driver's station on the vehicle's left and the commander's on the vehicle's right can be located by the rings of periscopes.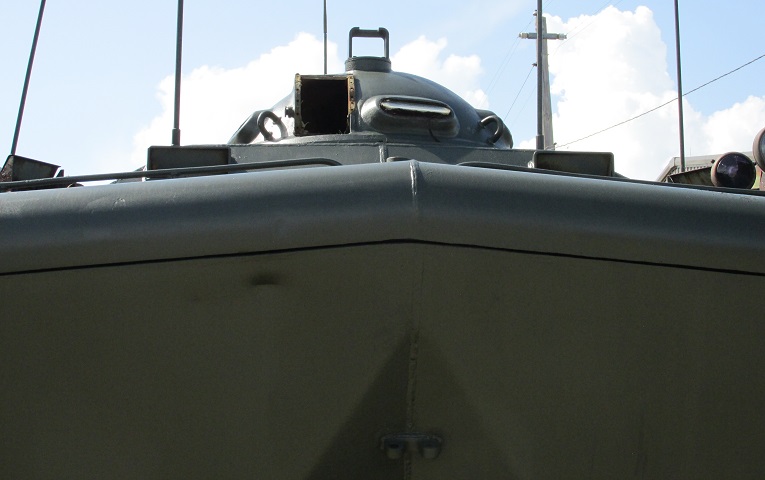 A closer look at the machine gun cupola shows that a vision block looked to the front beside the gun mounting. A guard for the sighting periscope is atop the cupola dome.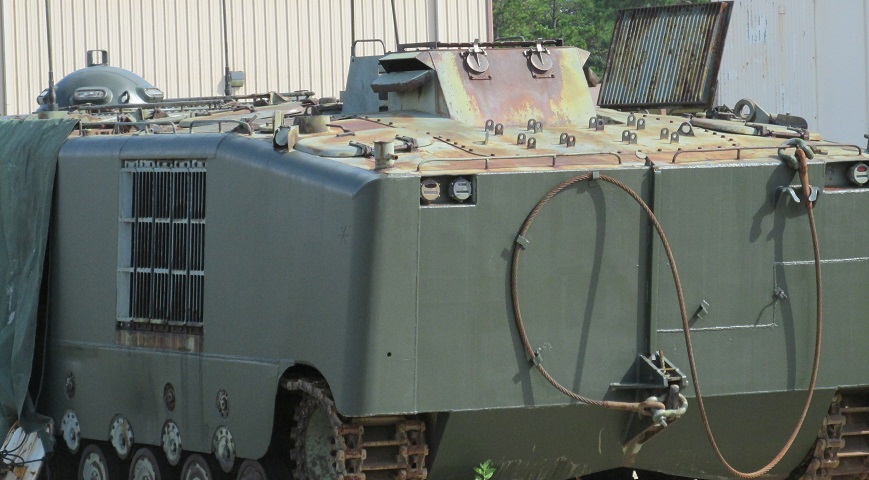 The grille over the port engine radiator is in place, and entrance hatches can be seen at each rear corners of the roof in front of the mooring bitts. Bilge pump outlets are on the roof just in front of the entrance hatches.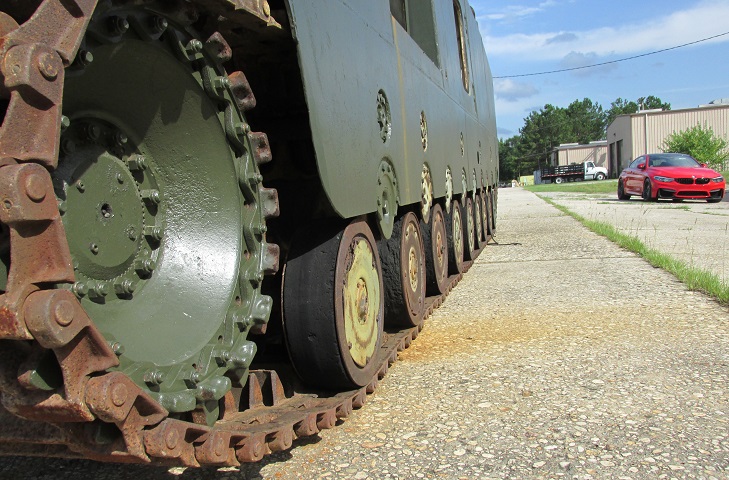 Details of the drive sprocket, tracks, and road wheels can be gleaned from this image.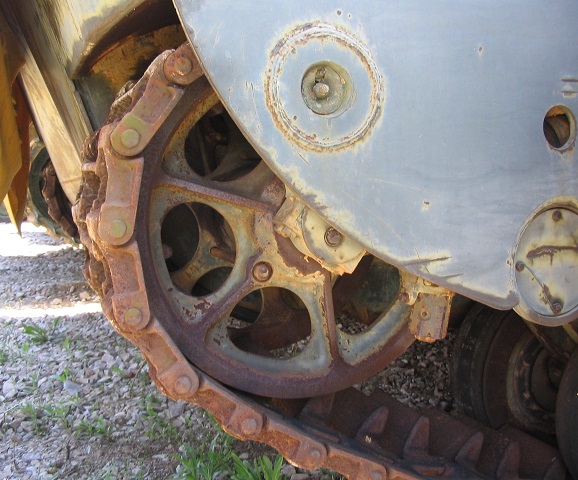 An older view of the same vehicle shows the compensating idler wheel and its adjustment mechanism.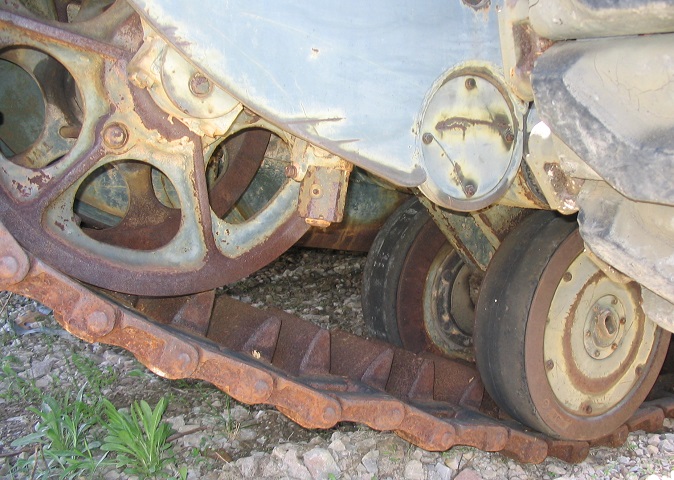 The front pair of dual road wheels is shown, including the full-width rubber tires.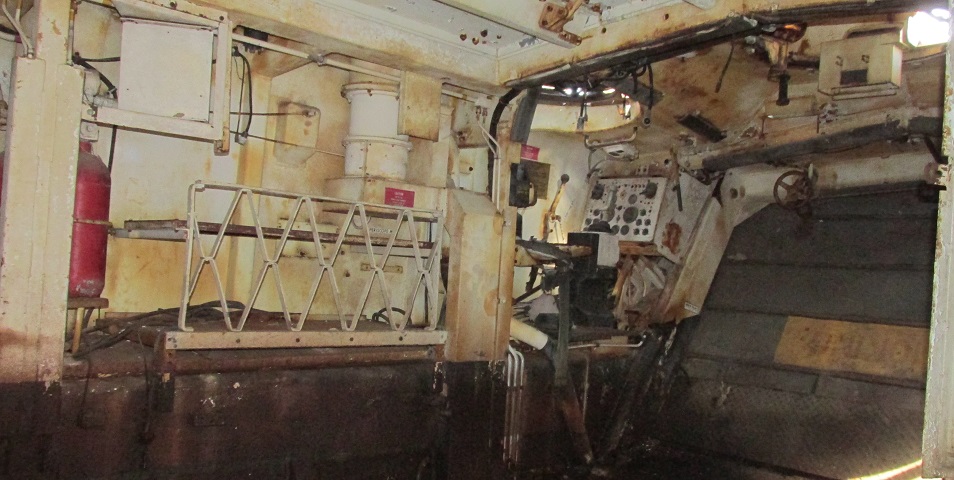 Peering into the interior from the missing starboard escape hatch, the driver's position is to the front left. The black machine gun cupola azimuth control handle points downward from the roof, and the white ammunition box bracket can also be seen. Behind the driver is a rack for radios, and red fire extinguisher bottles are behind the radio rack.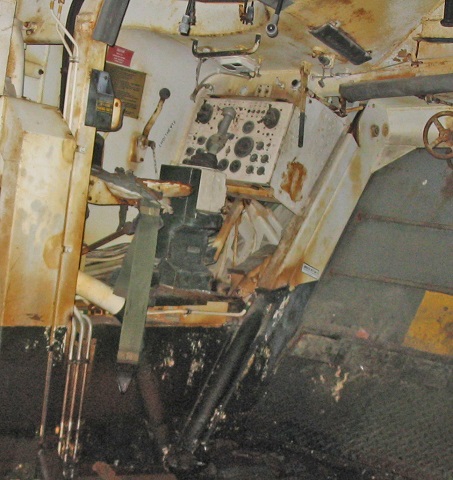 A closer shot of the driver's station is provided here. His instrument panel is obvious, and the silver steer and shift control lever was directly in front. On the side wall is the black-knobbed hand throttle. The accelerator pedal is at his bottom right in the channel under the instrument panel.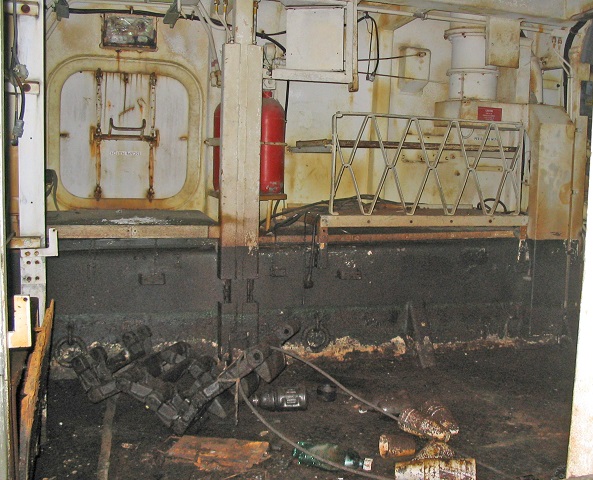 The port escape hatch is visible directly across in this older image of the same vehicle, and the radio rack at the rear of the passenger compartment can just be seen to the left of the image.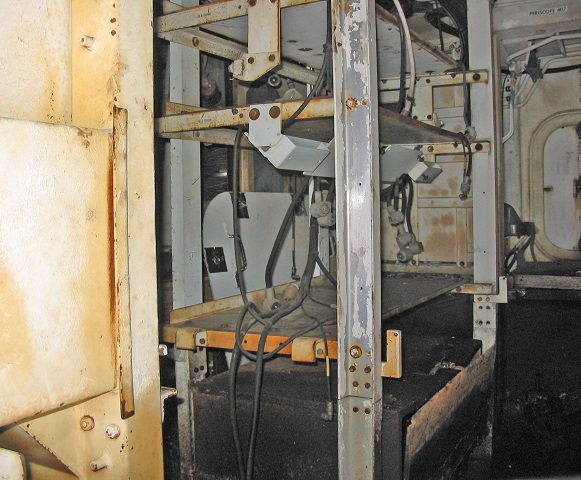 The rear radio rack is shown in this image.
---
Last updated 28 Nov 2021.
Questions? Comments? Corrections? Email me
© Copyright 2014-21 Chris Conners