The vehicle commander can be seen standing in his hatch; he is flanked by a 40mm grenade launcher and the LRAS3 pod. Another soldier is standing up through one of the two air guard hatches at the vehicle's rear. Two smoke grenade launchers are mounted on the nose of the vehicle, and the driver's hatch is in one of its five open positions. The circular object beside the driver's position is the camera for his thermal viewer. The officer in front of the vehicle is US Air Force LTC J.B. Waltermire, who was commanding the 140th Air Support Operations Squadron. The RV belongs to the 5th Squadron, 1st Cavalry Regiment, 1st Stryker Brigade Combat Team, US Army Alaska, and was getting ready to undergo training during the Red Flag-Alaska 14-3 exercise. (Picture taken 20 Aug 2014 by Justin Connaher; available from Defense Video & Imagery Distribution System.)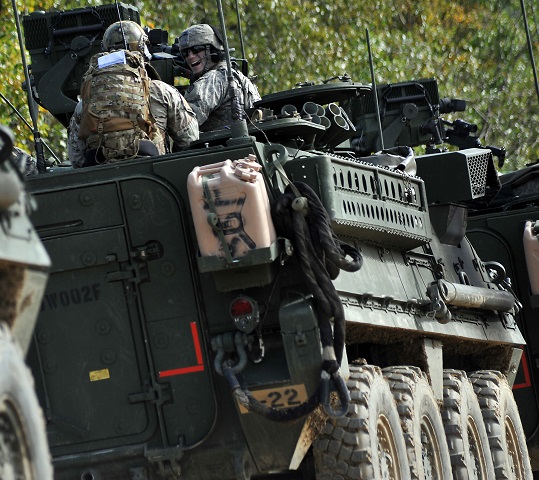 The rear entry ramp and door offset to the right in the ramp can be seen on this vehicle. The vehicle commander is again in his cupola, and a trooper is standing in one of the rear air guard roof hatches. More smoke grenade launchers are mounted on the right side of the vehicle's roof, and a tow bar is stowed above the front two axles. This vehicle belongs to the same unit during the same exercise as the one above. (Picture taken 21 Aug 2014 by Justin Connaher; available from Defense Video & Imagery Distribution System.)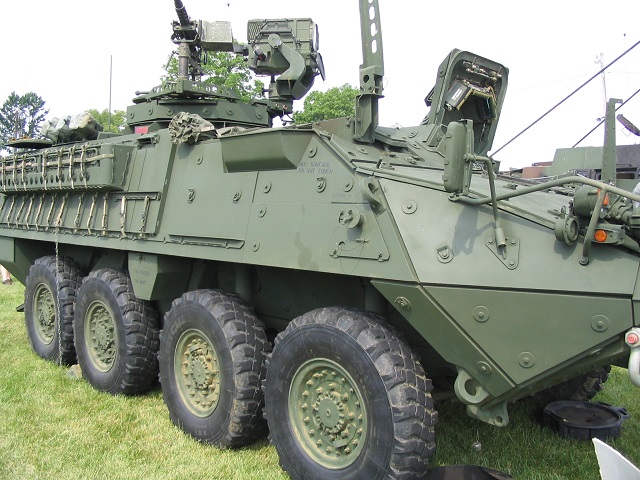 The layout of the side of the vehicle can be seen here, including the machine gun and LRAS3 mounts on the power-assisted commander's cupola.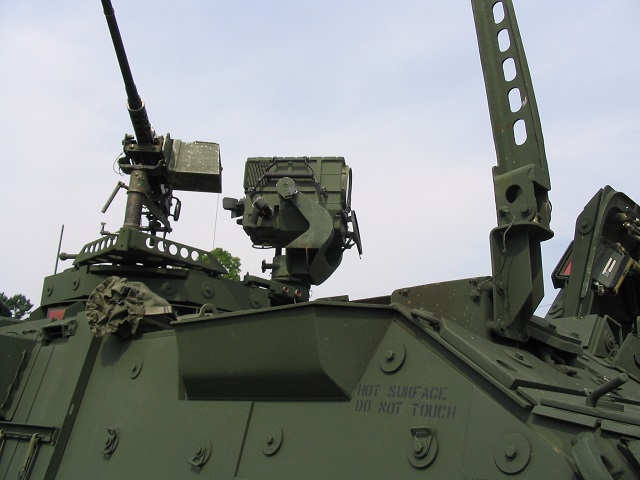 Further details of the machine gun mount, engine exhaust, and commander's wire cutter can be seen here.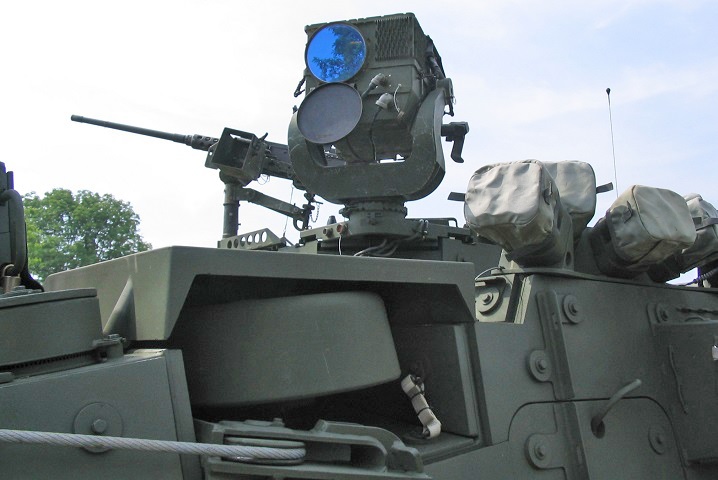 The LRAS3 sensor pod is detailed here, along with more smoke grenade launchers and the outlet for the vehicle's winch cable.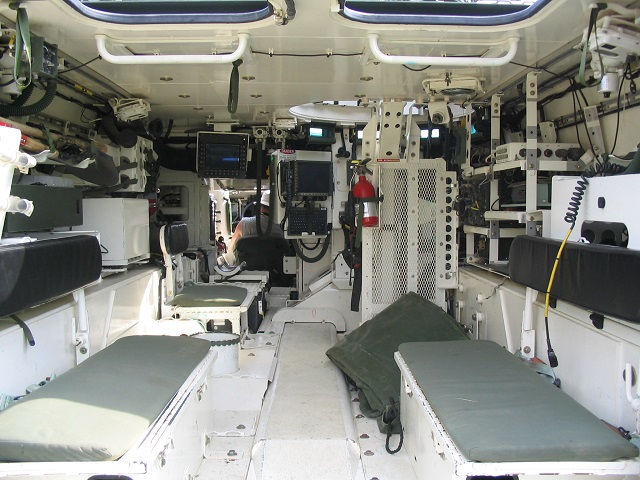 This interior view is looking through the open rear entry ramp. Two benches and a seat to the left of the vehicle commander provide accommodation for the 5 passengers. The commander's position is screened from view by the white screen and fire extinguisher bottle, but his FBCB2 Blue Force Tracker terminal with keyboard can be seen in the middle of the vehicle. To the left of this is another video display terminal that can be linked to the driver's thermal viewer. The two air guard hatches in the roof are at the very top of the image, and a man can be seen sitting in the driver's seat to the vehicle's front left.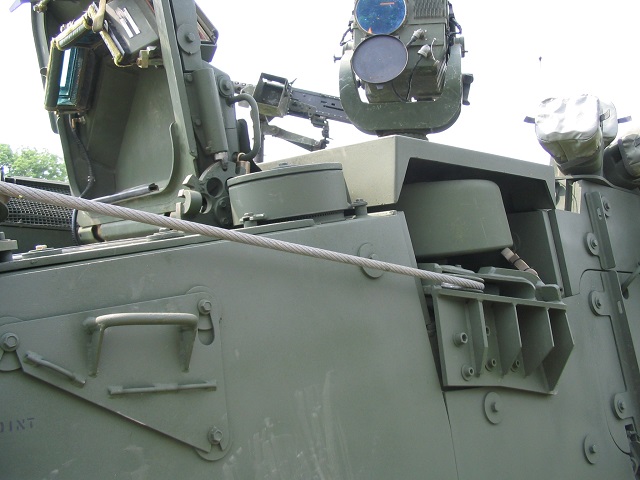 Details of the driver's three M17E4 periscopes are shown here, as well as another angle of the winch cable outlet. The mesh screen behind his hatch in the image is protecting an engine air inlet, and just outboard of his hatch is the round ballistic cover for a ventilation fan.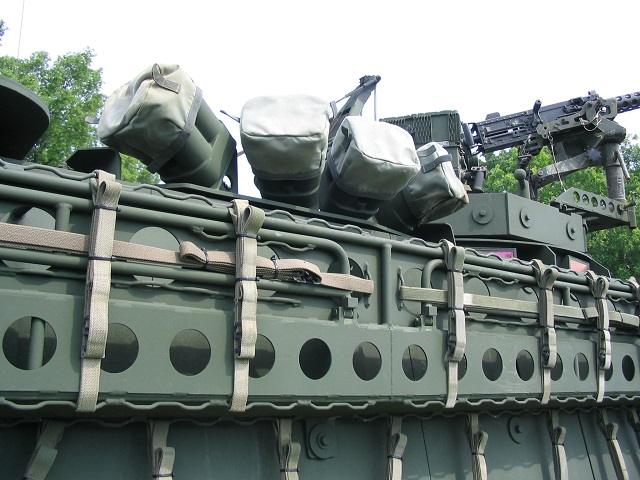 Large stowage racks are mounted on the hull sides of the Stryker vehicles due to limited interior space. Prodigious tie-downs are also provided on the racks.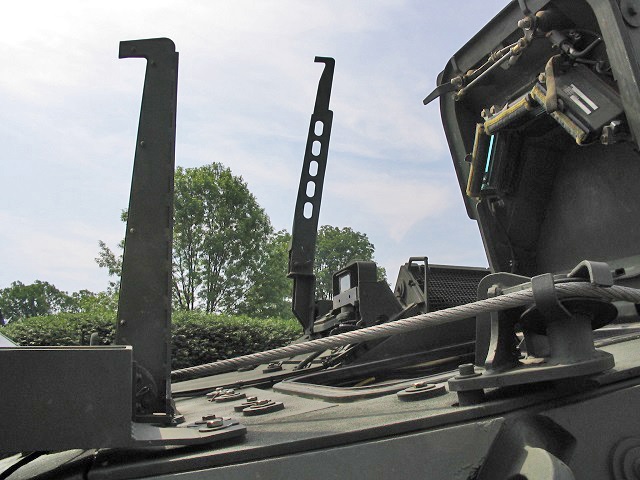 The difference in size of the driver's and commander's wire cutters is illustrated here. The locking mechanism of the driver's hatch is above his periscopes, and the square mount for his thermal viewer can be seen just inboard of his position.
---
Last updated 25 Jan 2015.
Questions? Comments? Corrections? Email me
© Copyright 2015 Chris Conners