The M113A1 parentage of the M163 is obvious. The side flotation cells and high-displacement trim vanes are readily apparent on this vehicle. The gun turret is open-topped, and the driver retains his normal position in the vehicle's left front corner. Though unlabeled, the gun travel lock is mounted next to the engine exhaust. 1. 20mm cannon M168. 2. Radar antenna (Unit 1). 3. Sight M61. 4. Mount M157A1. 5. Chassis M741. 6. Air intake grille. 7. Fire extinguisher handle. 8. Driver's hatch. 9. Periscope M17. 10. Trim vane. 11. Towing eyes. 12. Drive sprocket. 13. Lights. 14. Engine exhaust. 15. Exhaust grille. 16. Heater exhaust. (Picture from TM 9-2350-300-10 C4.)
1. Radio antennas. 2. Telescope M134. 3. Night sight AN/TVS-2B/5. 4. Commander's hatch. 5. Bilge outlet. 6. Rear light. 7. Idler wheel. 8. Towing pintle. 9. Ramp. 10. Personnel door. 11. Track shroud. 12. Road wheel. 13. Flotation pod. 14. Track. 15. Link chute cover. (Picture from TM 9-2350-300-10 C4.)
The driver's position was essentially the same as the base carrier, with the addition of a control for the suspension lockout to his right. To lock the suspension, the carrier was stopped, the brakes locked, and the transmission shifted into neutral. The engine was then set to 1500rpm using the hand or foot throttles, and the suspension lockout control handle was moved to the left. To unlock the suspension, the engine was again set at 1500rpm, and the control handle was moved to the right. The engine could be turned off or left running after the lockout process was finished. 11. Vehicle nameplate (vehicle and USA serial numbers). 12. Fuel cutoff control. 13. Suspension lockout control. 14. Ramp lock. 15. Ramp actuating lever. 16. Hand throttle control. 17. Deleted. 18. Accelerator pedal. 19. High-Low beam switch. 20. Differential steer levers. 21. IR Periscope stow bracket. 22. Turn signal control lever. (Picture from TM 9-2350-300-10 C4.)
The driver was provided with an additional indicator light that glowed when the suspension was locked out. After unlocking the suspension, it was necessary to wait for 20 seconds after the light had extinguished before moving the carrier. (Picture from TM 9-2350-300-10 C4.)
The carrier's battery box was relocated to the right front of the passenger compartment. (Picture from TM 9-2350-300-10 C4.)
Similarly the portable fire extinguisher (2) and its latches (1) were moved to near the floor. (Picture from TM 9-2350-300-10 C4.)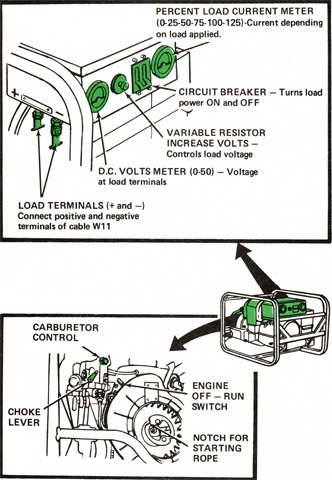 An auxiliary power unit was stowed inside that could be used to supplement or recharge the vehicle's batteries. (Picture from TM 9-2350-300-10 C4.)

Due to its increased weight and decreased freeboard compared to the base carrier, an air grille curtain was to be installed for fording operations. The gun travel lock is also visible. (Picture from TM 9-2350-300-10 C4.)
The gunner's control assembly is labeled in this drawing. 1. GOOD WHEN LIT indicator--prefire check test indicator. 2. ROUNDS REMAINING counter. 3. FIRING RATE switch--LO-NO BURST LIMIT; HI-BURST LIMIT-10, -30, -60, -100 rounds. 4. GUN CLEAR switch--AUTO: cannon clears automatically; OPERATOR: cannon cleared by holding switch; OFF: cannon does not clear after firing. 5. RANGE knob--set estimated range in MAN mode. 6. GUN POWER indicator. 7. SYSTEM POWER indicator. 8. SYSTEM POWER switch. 9. GUN POWER switch. (Picture from TM 9-2350-300-10 C4.)
10. TARGET SPEED knob--set estimated speed in MAN mode. 11. Trigger switch (right handle)--fires cannon. 12. Action switch. 13. Elevation control--controls mount in azimuth and elevation. 14. Sight cage switch. 15. Trigger switch (left handle)--dummy, no function. 16. SIGHT LAMP knob--controls sight reticle brightness. 17. MODE switch--GRD: lead computing feature of sight is not used; RADAR: target range and speed set automatically; MAN: target range and speed set by operator; EXT: range set by external range control; TEST: used in prefire checks. 18. READY WHEN LIT indicator--lights when radar is ready (after 2-minute warmup). (Picture from TM 9-2350-300-10 C4.)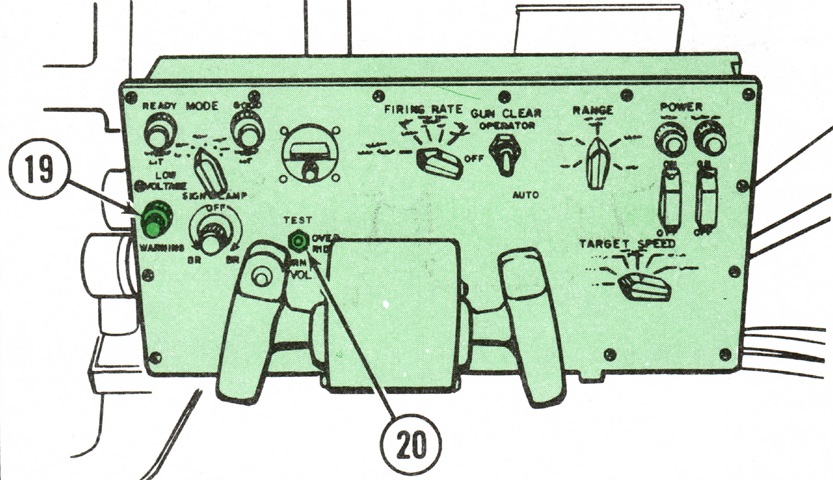 19. LOW VOLTAGE WARNING indicator--FLASHING: warns that system voltage has dropped below 22.0 volts; STEADY LIGHT: system voltage has dropped below 20.5 volts and has automatically been interrupted. Inverter, sight gyro, radar, and SCG are shut down. 20. LOW VOLTAGE switch--NORMAL: enables low voltage protective circuits to warn of approaching low voltage condition and puts system in ground mode; OVERRIDE: overrides low voltage protection circuit and allows continued operation or restoration of power under low voltage conditions; TEST: tests low voltage protective circuits. (Picture from TM 9-2350-300-10 C4.)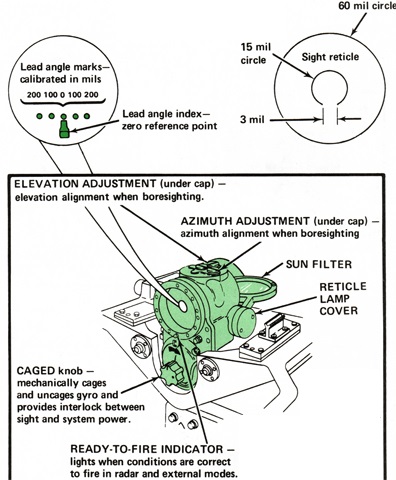 The M61 sight is shown in this drawing. The sight was to be caged when not in use and before turning the system power on or off. (Picture from TM 9-2350-300-10 C4.)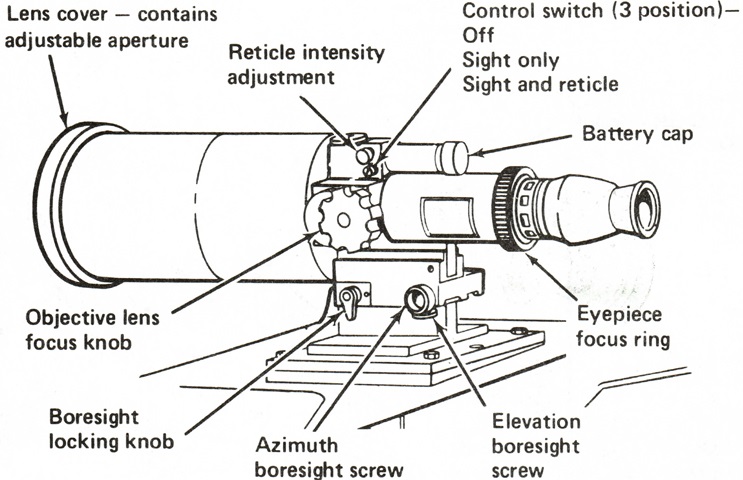 Details of the gunner's night vision sight are labeled here. (Picture from TM 9-2350-300-10 C4.)
The radar antenna is shown in this sketch. 1. Reflector. 2. Radome. 3. Boresight telescope bracket and clamps. 4. Waveguides. 5. Traverse servo drive. 6. Elevation servo drive. 7. Elevation input couplings. (Picture from TM 9-2350-300-10 C4.)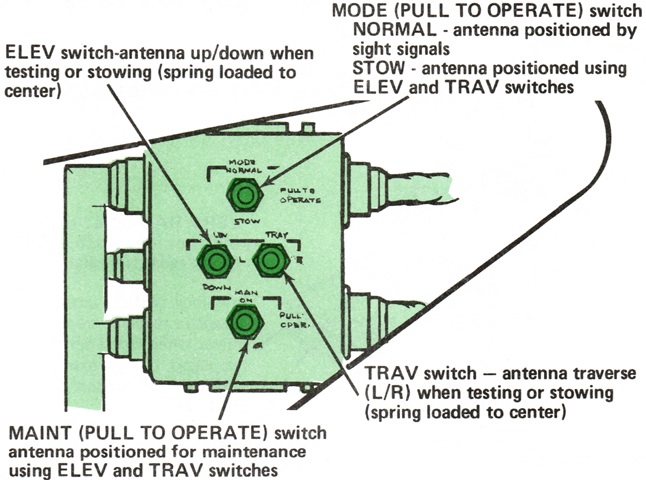 The radar antenna's stowage controls are shown here. (Picture from TM 9-2350-300-10 C4.)
Electrical power for the weapon station was provided by three batteries mounted on the turret. (Picture from TM 9-2350-300-10 C4.)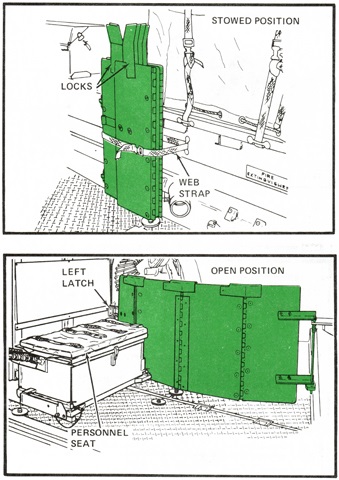 A safety guard was able to be extended across the rear compartment to shield against movement of the turret. (Picture from TM 9-2350-300-10 C4.)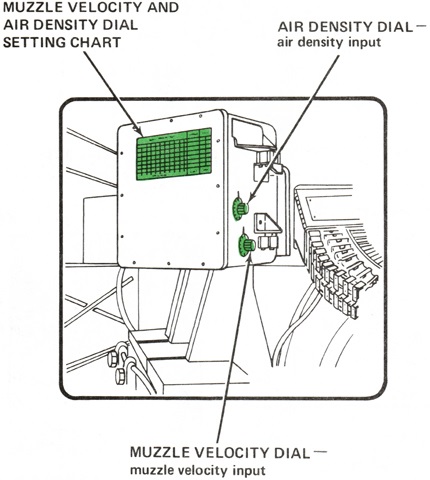 Affixed to the front of the sight current generator was a chart that referenced dial settings to input for various air density and muzzle velocities. The muzzle velocity was calculated using the ammunition type, air temperature, and barrel wear calculated via the amount of barrel cluster rounds fired up to 72,000. (Picture from TM 9-2350-300-10 C4.)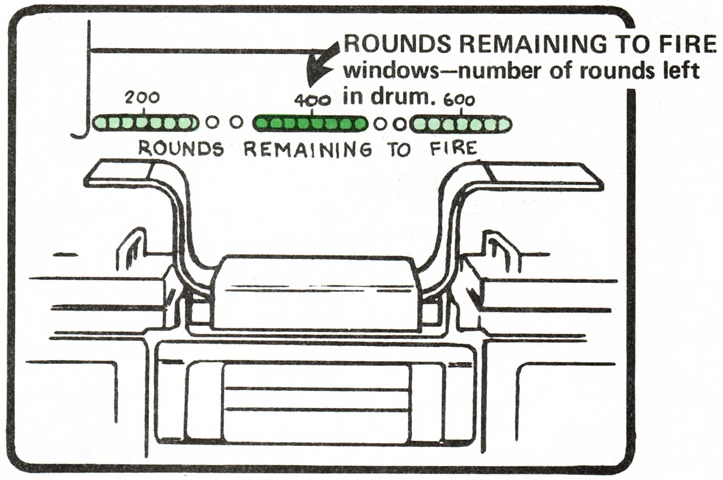 Ammunition remaining in the ammunition drum was visible through calibrated windows. (Picture from TM 9-2350-300-10 C4.)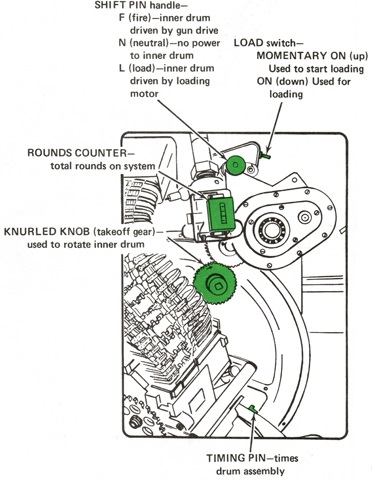 Controls for the ammunition drum drive are sketched here. A speed wrench handle could be inserted into the takeoff gear knob when loading the ammunition. (Picture from TM 9-2350-300-10 C4.)
The ammunition conveyor unit is drawn in this image. (Picture from TM 9-2350-300-10 C4.)
The exit unit is highlighted in this picture. (Picture from TM 9-2350-300-10 C4.)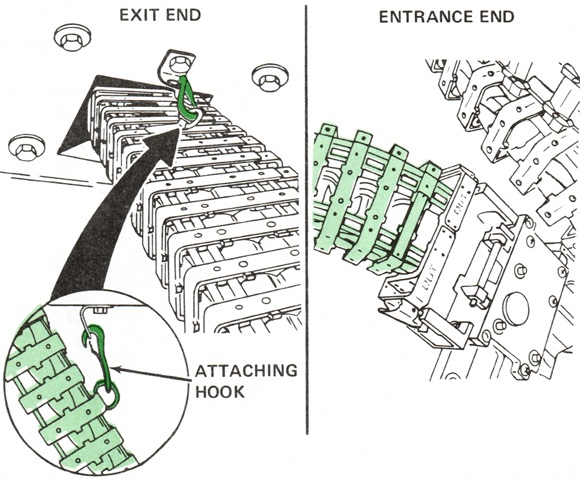 The link disposal chute is shown reaching up to the link chute cover. (Picture from TM 9-2350-300-10 C4.)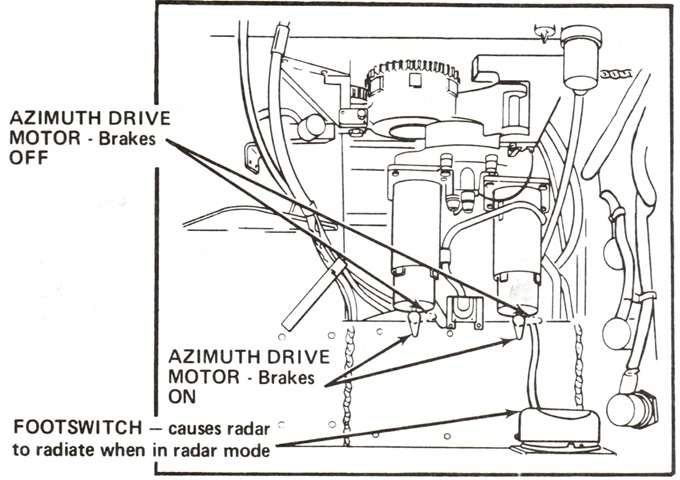 The operation of the azimuth drive brakes is indicated, and the footswitch to activate the radar is also labeled. (Picture from TM 9-2350-300-10 C4.)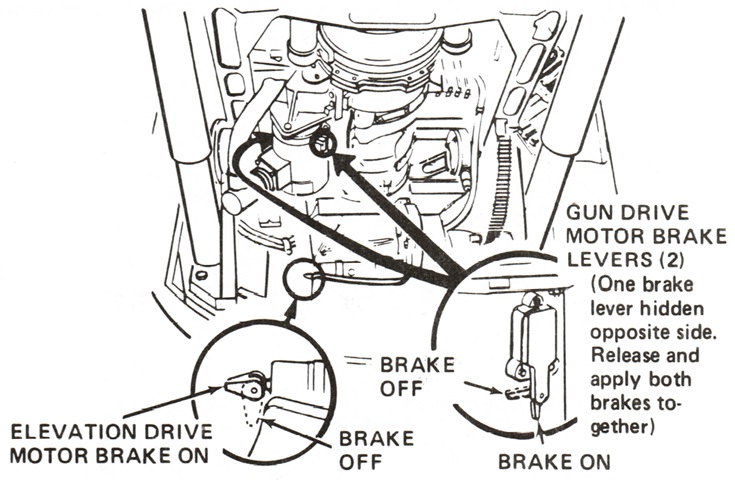 The elevation drive also had brake levers. (Picture from TM 9-2350-300-10 C4.)
One of two gun shield quick release pins and the brake-clear and brake switch are illustrated in this sketch. (Picture from TM 9-2350-300-10 C4.)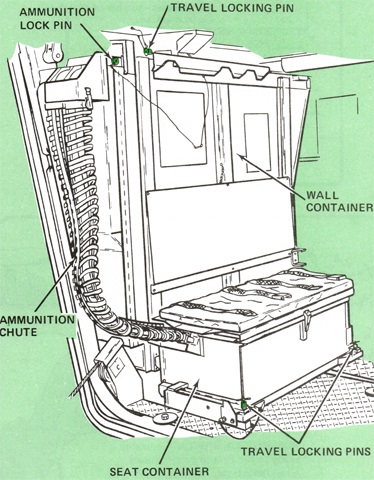 The ammunition stowage system on the left rear of the passenger compartment is shown here. Used to refill the ammunition drum, it consisted of both a wall can and a seat container. (Picture from TM 9-2350-300-10 C4.)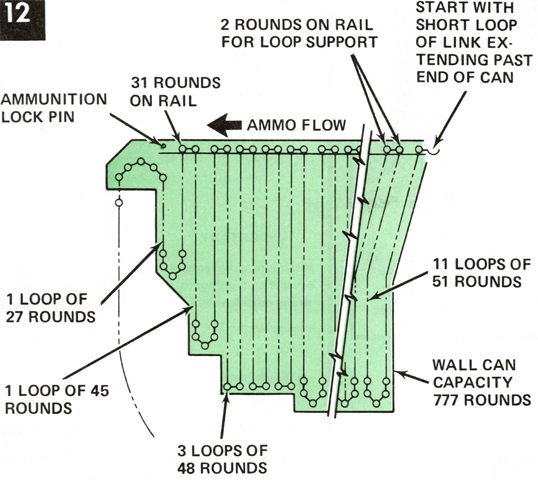 The proper way to load the wall can of the ammunition stowage system is diagrammed here. (Picture from TM 9-2350-300-10 C4.)

The ammunition was strung from the wall can to the seat container per the instructions above. (Picture from TM 9-2350-300-10 C4.)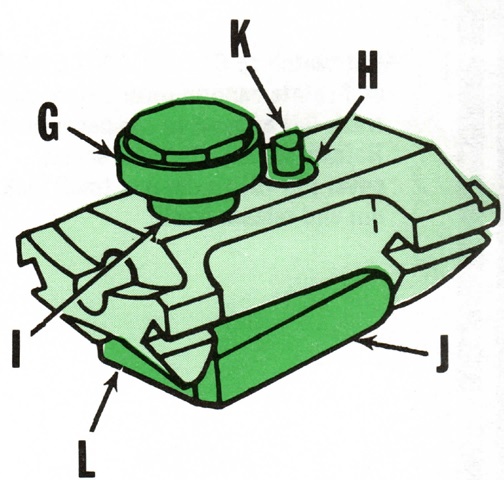 One of the six breechbolts of the ordnance is drawn here. G. Roller. H. Firing pin cam insulation. I. Bolt shaft. J. Locking block. K. Firing pin cam. L. Locking surface. (Picture from TM 9-2350-300-10 C4.)
Two muzzle clamps were available. On the left is the elliptical 6x18 mil antiaircraft clamp that held the barrels in a slightly oval orientation, and on the right is the 5 mil ground role clamp that held the barrels in a circle. E, H. Clamp. F, I. Locking plate. G, J. Bolt. (Picture from TM 9-2350-300-10 C4.)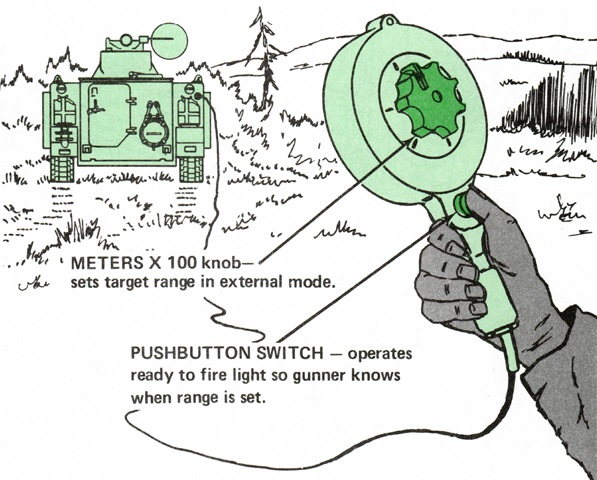 An external range control was available to allow an observer to input the estimated range to a target. (Picture from TM 9-2350-300-10 C4.)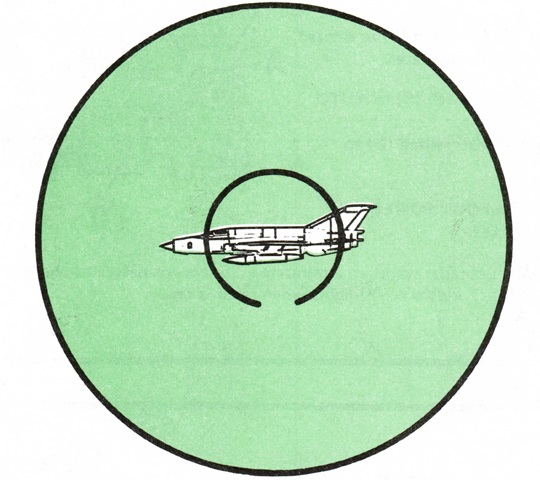 The reticle of the lead computing sight M61 is shown here. To begin an engagement in radar mode, the target was to be centered in the reticle and manually tracked as the radar footswitch pressed. The sight and radar automatically computed the correct lead angle to hit an aerial target. After the ready-to-fire light was illuminated, the target was to be smoothly tracked for a short period until the sight settled to the correct led angle (one second in radar mode). Then with the target stationary in the center of the reticle, the trigger was to be pressed. If the ready-to-fire light blinked rapidly, the radar was being jammed, and a change to MAN mode was necessary, with the gunner inputting estimated target range and speed. (Picture from TM 9-2350-300-10 C4.)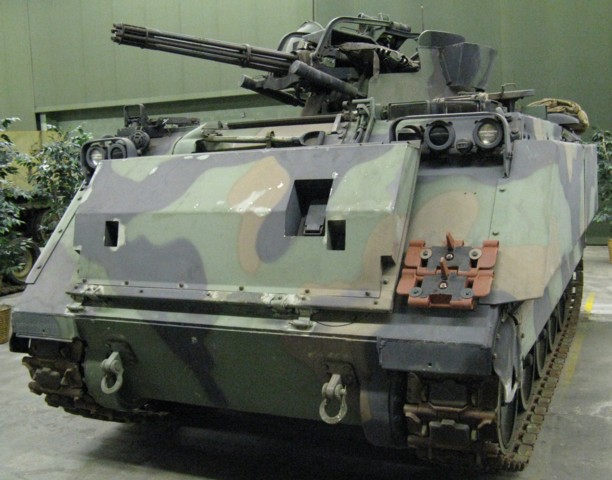 Along the vehicle's left-hand roof can be seen the square fire extinguisher activation handle cover, and directly behind this is the semi-circular link chute cover.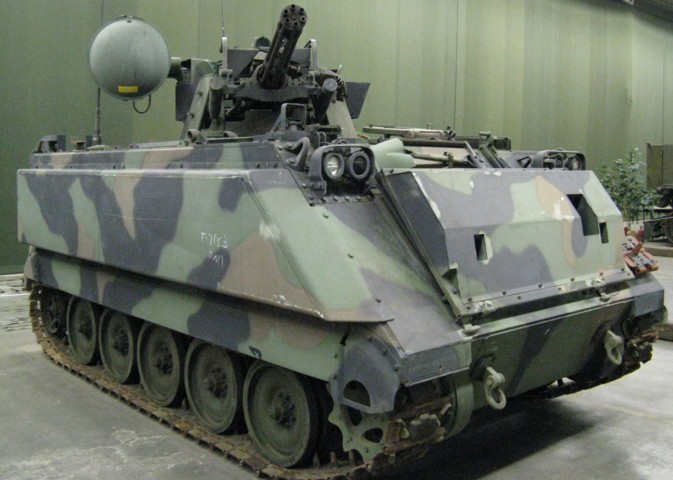 The engine exhaust indicates that this carrier is an M741A1 based on the M113A2. The improved suspension found on that vehicle was not carried over to the M741A1 due to incompatibility with the suspension lockouts. The depth of the trim vane can be better seen from this angle.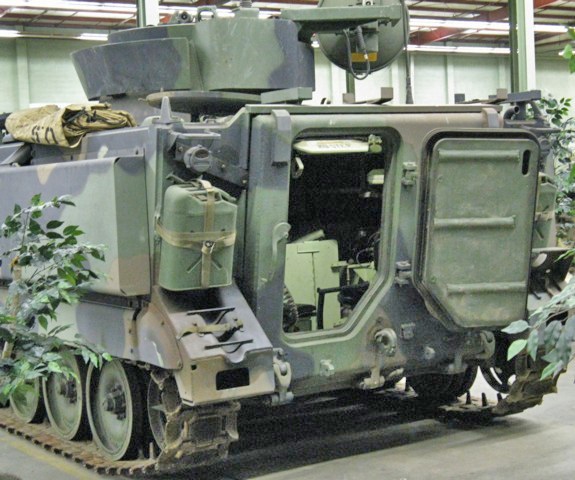 The personnel door in the rear ramp is open on this vehicle, and light can be seen shining in from the open commander's hatch in the hull rear roof. A towing pintle is mounted on the ramp below the personnel door.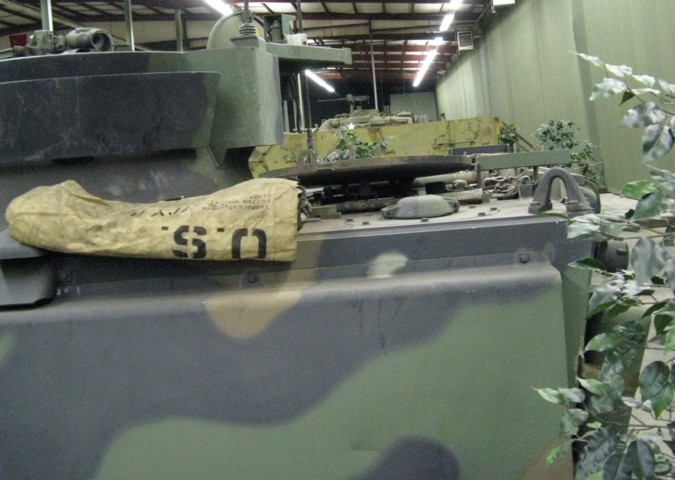 The commander's hatch opens to the vehicle's left, and the link chute cover can be seen to the left of the image under the canvas bag.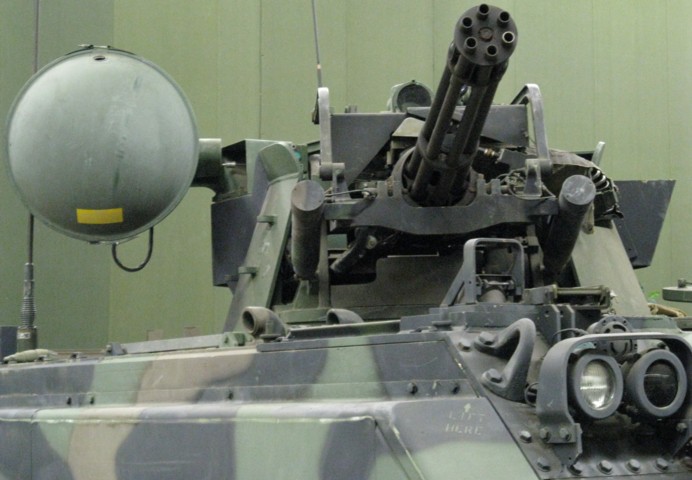 The M157A1 gun mount is seen here. The antenna for the AN/VPS-2 radar set is mounted on the turret's right side, and the sight M61 can be seen on the top of the turret above the ordnance. The partially obscured forward exhaust pipe on the vehicle's roof is for the engine, and the rear pipe is for the personnel heater.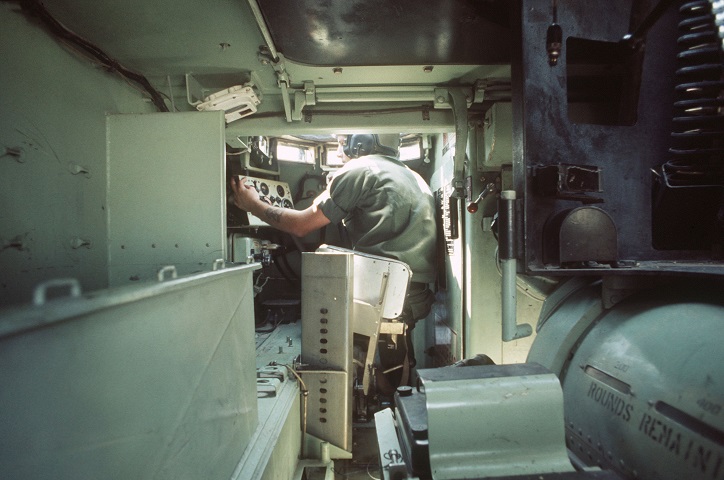 This interior view provides some scale of the room taken up by the gun turret. The driver can be seen in the background, and the large ammunition drum with its windows for viewing remaining rounds is in the picture's lower right corner. Batteries for the gun system are ahead of the ammunition drum, and the ammunition can be seen snaking up the right side of the image. (Picture taken 1 Apr 1978; available from the National Archives.)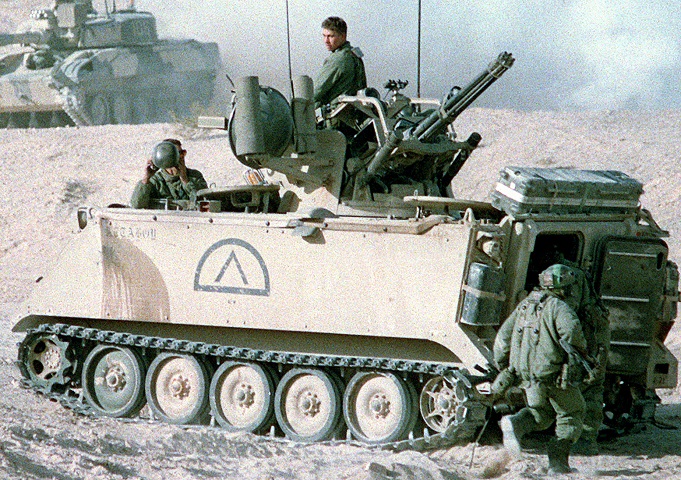 This vehicle lacks the side-mounted flotation cells and high-volume trim vane, but there would be little use for these in the California desert in any case. The commander's hatch on this vehicle is also open, and can be seen on the rear roof, just inboard of the external stowage. The vehicle in the background is an M551 Sheridan modified to resemble a T-72 tank. (Picture taken 1 Nov 1988; available from the Defense Visual Information Center.)
---
Last updated 9 Jan 2023.
Questions? Comments? Corrections? Email me
© Copyright 2002-23 Chris Conners