This early-production machine is equipped with the cast muzzle brake, turret with a high side weld line, squared-off fenders, and sand shields. Note also the early design of the tracks. (Picture from TM 9-730 76-mm Gun Tank T41E1.)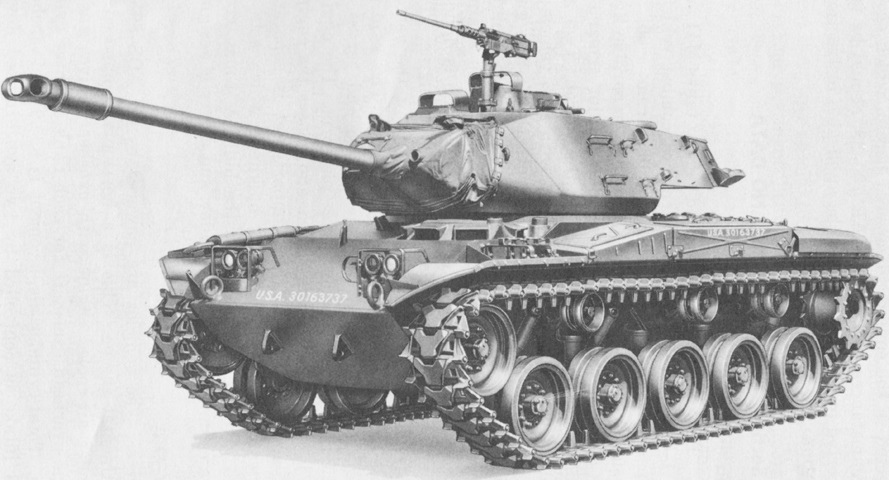 The M41 was a tidy and handsome design. This is a later-production machine, as evidenced by the low turret weld line, angled fenders, fabricated T-shaped muzzle brake, and muffler for the auxiliary generator engine on the right front fender. The track design has also changed, and the pioneer tool rack has been moved to the right fender from the upper front hull. The .50cal machine gun is mounted atop the roof, and a canvas dust cover has been installed around the main gun mount. (Picture from TM 9-2350-201-12.)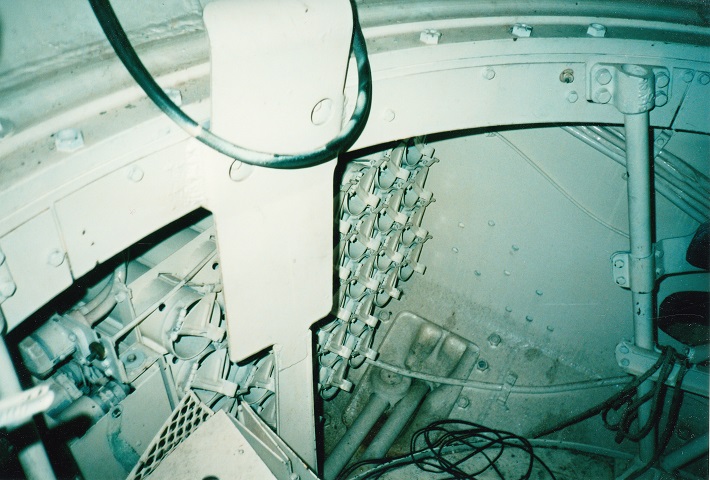 At the right front hull was a 33-round 76mm ammunition rack. The turret is reversed on this tank, with the main gun in travel lock. On the floor of the vehicle, two of the suspending torsion bars are visible. The opposite wheels on the M41, along with most vehicles suspended by torsion bars, are slightly offset, and it is visible why here. The bars run the width of the hull, and force the wheels to be mounted slightly ahead of one another.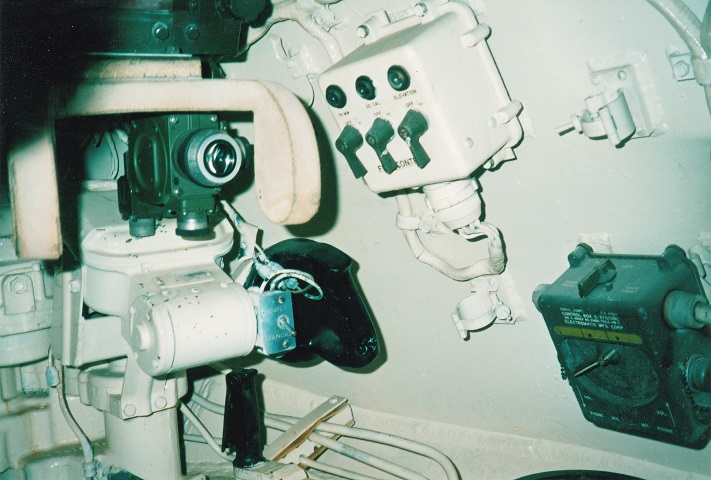 These instruments are above and to the right of those featured in the above picture. The white gun firing control box is mounted to the turret side wall, and to the front of this is the gunner's M20 sighting periscope. The gun firing control box had on/off toggle switches for, front to rear, the 76mm gun, the coaxial machine gun, and "automatic," which energized the electric motor in the hydraulic power traversing and elevating powerpack. The handle above the traverse hand drive handle is the gunner's power traverse handle. The switch just to the left of the power traverse handle is the hydraulic dump valve toggle switch.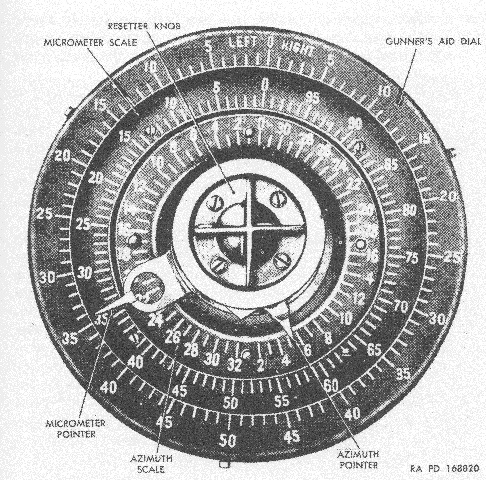 The azimuth indicator M31 is displayed here. Meshed with the turret ring, it assisted the gunner in laying the ordnance for indirect fire. The azimuth scale was graduated in 100-mil intervals and the dial read from 0 to 3200 mils in each direction. The micrometer scale was graduated counterclockwise in 1-mil increments from 0 to 100. The gunner's aid dial was graduated in 1-mil increments and the dial read from 1 to 50 in each direction. The device was fitted with a directional pointer that was fixed along the longitudinal axis of the hull and showed on the azimuth scale how much the gun had traversed from the hull's longitudinal axis. The azimuth and micrometer pointers could be set to zero with the resetter knob when the sights were set on a desired reference. When the gun was traversed from that reference, the sum of the pointers showed the amount of traverse. The gunner's aid dial could be rotated until its zero matched the micrometer pointer, and then right and left corrections could be made from the gunner's aid dial. (Picture from FM 17-80 Tanks, 76-mm Gun, M41 and M41A1.)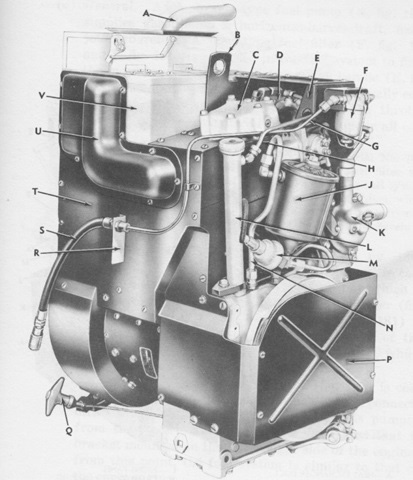 A Detroit Diesel A-41-1 or A-41-2 single-cylinder, air-cooled gasoline engine was connected to a Delco A-8585 300-ampere, 27.5-volt, direct current generator. The generator could be used to start the auxiliary engine, and a cable pull-type starter was also provided. With the generator, the engine weighed 393lb (178kg) dry. The unit was used to recharge the tank's batteries, provide power to electrical systems while the main engine was off, supplement the current generated by the main engine, and heat the engine compartment during cold weather.
A. Exhaust outlet. B. Lifting eye. C. Cylinder head. D. Carburetor. E. Carburetor guard. F. Fuel filter. G. Union-to-fuel filter line. H. Crankcase vent tube. J. Oil filter. K. Governor. L. Oil filter tube. M. Low oil pressure warning light switch. N. Oil filter inlet tube. P. Front panel. Q. Hand starter handle. R. Fuel line mounting bracket. S. Flexible fuel line. T. Right panel. U. Exhaust manifold cover. V. Heat exchanger. (Picture from TM 9-2350-201-12.)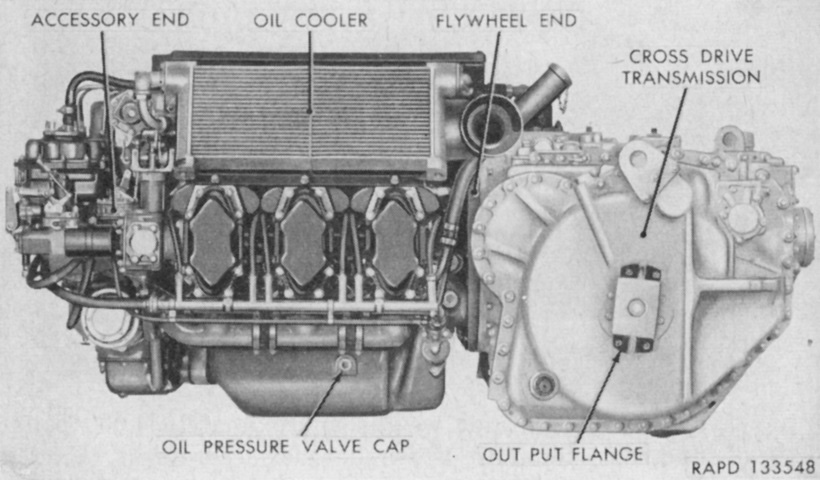 Able to be removed as a unit, the powerpack weighed ~4,000lb (~1,800kg). The accessory end of the engine was considered the front, while the right or left side was determined by looking at the engine from the accessory end. The right side of the engine is therefore shown in this picture. The right-side cylinders were numbered from the accessory end as 1, 3, and 5; on the opposite side are cylinders 2, 4 and 6, with 2 closest to the accessory end. Firing order was 1-6-3-2-5-4. (Picture from TM 9-730 76-mm Gun Tank T41E1.)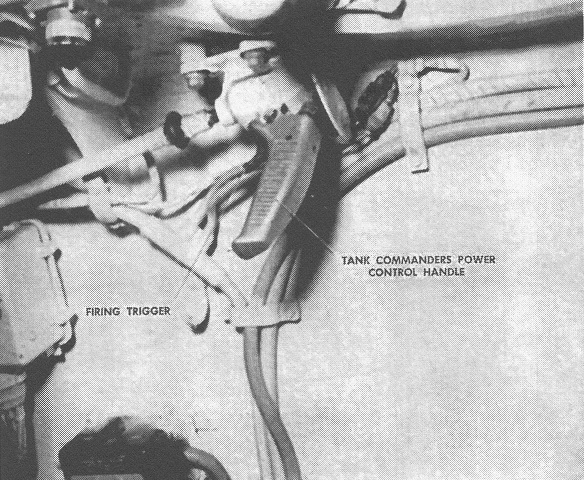 The tank commander was provided with both traverse and elevation control with the Cadillac system. Traverse was accomplished by moving the butt of his handle in the desired direction; elevation was accomplished by moving the handle forward and depression by moving it to the rear. In contrast to the pulsing relay system, the gun control box with the Cadillac turret control system had on/off toggle switches for the 76mm gun, the coaxial machine gun, and the power elevation circuit. The elevation switch on the gun control box had to be activated before the TC could elevate the gun. (Picture from FM 17-80 Tanks, 76-mm Gun, M41 and M41A1.)