This may be the pilot M53. The arrangement of the square transmission access port covers in the front of the hull differs from production vehicles, in which the three ports were in a straight line across the hull. The end of the 155mm gun is also threaded for a muzzle brake, while production vehicles were not so equipped. Brackets for extra track blocks are fitted to each side of the turret front, and attachments for a canvas dust cover surround the gun mount. There is a machine gun mount in front of the commander's cupola on the turret roof's right side, and the circular support above the gun tube is a telescope cover support that allowed the gunner's telescope M99 to see through a hole in the canvas dust cover.
The production arrangement of the transmission access covers can be seen on this machine. (Picture from ORD 9 SNL G-259 List of All Service Parts of Gun, Self-propelled, Full Tracked: 155-mm, T97 and Howitzer, Self-propelled, Full Tracked: 8-in, T108.)
The vent in the side of the vehicle above the drive sprocket is the front air-exhaust duct, while the mesh screen just in front of the turret is the rear air-exhaust duct. Stowage boxes are placed between these ducts. Attachments for a fender extension run along the side of the vehicle just above the tracks.
The air exhaust and stowage box setup was repeated on the vehicle's left side. The outline of the driver's doors can be seen in the turret just above the final track return roller, and his roof hatch is on the front left corner of the turret.
The large stabilization spade dominates the rear of the vehicle. It normally is retracted to an almost vertical position, and hidden by it in this image are the towing pintle and the rear stowage compartment access doors. The rear doors in the turret can also be seen.
The gunner's doors were built into the right side of the turret, and the commander's machine gun pintle mount can be seen just above these doors.
The spade is stowed in this wider view. (Picture from ORD 9 SNL G-259 List of All Service Parts of Gun, Self-propelled, Full Tracked: 155-mm, T97 and Howitzer, Self-propelled, Full Tracked: 8-in, T108.)
From above, the position of the driver's station at the turret's front left corner and the commander's along the turret's right side can be compared. A. Cover. B. Clamp. C. Cover. D. Clamp. E. Louver, ass'y. F. Door, ass'y. G. Cover, ass'y. H. Door, ass'y. J. Louver, ass'y. K. Cover. L. Cover. M. Cover, ass'y. N. Cover, ass'y. P. Cover, ass'y. Q. Cover. R. Cover, ass'y. S. Louver, ass'y. T. Cover, ass'y. U. Louver, ass'y. V. Cover, ass'y. W. Cover, ass'y. X. Cover, ass'y. Y. Clamp. (Picture from ORD 9 SNL G-259 List of All Service Parts of Gun, Self-propelled, Full Tracked: 155-mm, T97 and Howitzer, Self-propelled, Full Tracked: 8-in, T108.)
Access panels and other features of the hull bottom are labeled here. A. Lug. B. Chock. C. Gasket. D. Plate. E. Bolt. F. Cover. G. Lock, assy. H. Gasket. J. Plate. K. Bolt. L. Gasket. M. Gasket. N. Cover. P. Plate. Q. Valve, assy. (Picture from ORD 9 SNL G-259 List of All Service Parts of Gun, Self-propelled, Full Tracked: 155-mm, T97 and Howitzer, Self-propelled, Full Tracked: 8-in, T108.)
A schematic of the fuel system is provided in this sketch. A. Sleeve. B. Nut. C. Tube. D. Tube. E. Nipple. F. Elbow. G. Hose, assy. H. Union. J. Locknut. K. Tube. L. Elbow. M. Coupler. N. Nipple. P. Hose. Q. Elbow. R. Nipple. S. Bushing. T. Coupler. U. Nipple. V. Line, assy. W. Adapter. X. Gasket. Y. Bushing. Z. Packing. AA. Tee. BB. Union. CC. Nut. DD. Tube. EE. Tube. FF. Tube. GG. Line, assy. HH. Sump. JJ. Line, assy. KK. Filter, assy. LL. Boot. MM. Tube. NN. Elbow. PP. Tube. QQ. Pump, assy. RR. Connector. SS. Tube. TT. Block, assy. UU. Union. VV. Clip. WW. Tube. XX. Hose, assy. YY. Line, assy. ZZ. Block. AB. Tee. (Picture from ORD 9 SNL G-259 List of All Service Parts of Gun, Self-propelled, Full Tracked: 155-mm, T97 and Howitzer, Self-propelled, Full Tracked: 8-in, T108.)
The hull electrical installation is drawn here, revealing the location of the batteries in the engine compartment. A. Headlight, assy. B. Headlight, assy. C. Grommet. D. Clamp. E. Grommet. F. Clamp. G. Cover, assy. H. Harness, assy. J. Harness, assy. K. Bracket. L. Harness, assy. M. Cover, assy. N. Harness, assy. P. Harness, assy. Q. Harness, assy. R. Harness, assy. S. Harness, assy. T. Headlight, assy. U. Transmitter, assy. V. Cable, assy. W. Horn, assy. (Picture from ORD 9 SNL G-259 List of All Service Parts of Gun, Self-propelled, Full Tracked: 155-mm, T97 and Howitzer, Self-propelled, Full Tracked: 8-in, T108.)
The suspension is detailed in this image. (Picture from ORD 9 SNL G-259 List of All Service Parts of Gun, Self-propelled, Full Tracked: 155-mm, T97 and Howitzer, Self-propelled, Full Tracked: 8-in, T108.)
An exploded view of the turret bearing is provided here. A. Seal. B. Ring. C. Bearing, assy. 1. Roller. 2. Retainer. D. Nut. E. Washer. F. Ring. G. Base. H. Seal. J. Stud. K. Wheel. L. Bolt. M. Washer. N. Rack. P. Bearing, assy. 1. Retainer. 2. Roller. (Picture from ORD 9 SNL G-259 List of All Service Parts of Gun, Self-propelled, Full Tracked: 155-mm, T97 and Howitzer, Self-propelled, Full Tracked: 8-in, T108.)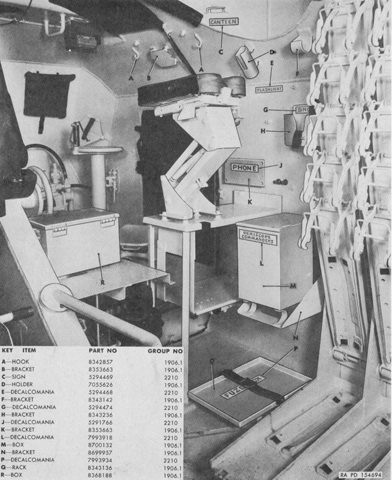 The turret interior is seen here from the left rear. Shell racks are visible on the right, and the commander's elevated seat can be seen near the center of the image. (Picture from ORD 9 SNL G-259 List of All Service Parts of Gun, Self-propelled, Full Tracked: 155-mm, T97 and Howitzer, Self-propelled, Full Tracked: 8-in, T108.)
The 155mm projectile rack is diagrammed on the left, with the 155mm powder case rack on the right. (Picture from ORD 9 SNL G-259 List of All Service Parts of Gun, Self-propelled, Full Tracked: 155-mm, T97 and Howitzer, Self-propelled, Full Tracked: 8-in, T108.)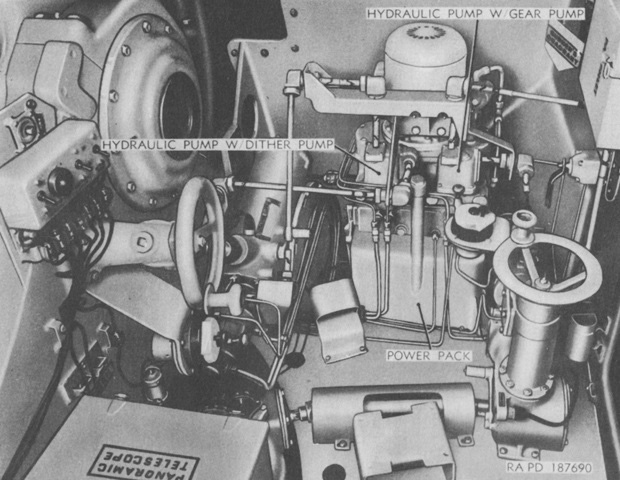 Components of the traversing and elevation system are labeled here. (Picture from TM 9-7205-2.)
The gunner's telescope mount T179E2 could be cross-leveled, and had an automatic azimuth compensating mechanism that could establish the tube in the correct vertical plane at all elevations regardless of cant. (Picture from FM 6-93 155-mm Gun M53, Self-propelled and 8-inch Howitzer M55, Self-propelled.)

The panoramic telescope T149E1 is shown in this image. (Picture from FM 6-93 155-mm Gun M53, Self-propelled and 8-inch Howitzer M55, Self-propelled.)
The rammer also functioned as the spade hoist. (Picture from ORD 9 SNL G-259 List of All Service Parts of Gun, Self-propelled, Full Tracked: 155-mm, T97 and Howitzer, Self-propelled, Full Tracked: 8-in, T108.)
The linkage of the spade and the rammer/spade hoist is sketched here. A. Housing, assy. B. Housing. C. Pulley, assy. D. Latch, assy. E. Housing. F. Housing, assy. G. Spade. H. Clevis. J. Rope. (Picture from ORD 9 SNL G-259 List of All Service Parts of Gun, Self-propelled, Full Tracked: 155-mm, T97 and Howitzer, Self-propelled, Full Tracked: 8-in, T108.)
The ammunition hoist and track are shown installed on the turret ceiling. (Picture from ORD 9 SNL G-259 List of All Service Parts of Gun, Self-propelled, Full Tracked: 155-mm, T97 and Howitzer, Self-propelled, Full Tracked: 8-in, T108.)
The fixed fire extinguisher system contained three cylinders which were routed into the engine compartment. A. Bracket. B. Clamp. C. Cover. D. Cable, assy. E. Cable, assy. F. Nut. G. Adapter. H. Elbow. J. Tube. K. Connector, assy. L. Control, assy. M. Harness, assy. N. Tube. P. Bracket. Q. Cylinder, assy. R. Tube. S. Tube. T. Tube. U. Clamp. V. Union. W. Tube. X. Nozzle. Y. Bolt. Z. Bracket. AA. Elbow, assy. BB. Pad. CC. Tube. DD. Bolt. EE. Tube. FF. Bracket. (Picture from ORD 9 SNL G-259 List of All Service Parts of Gun, Self-propelled, Full Tracked: 155-mm, T97 and Howitzer, Self-propelled, Full Tracked: 8-in, T108.)
The auxiliary generator and engine are shown from the left rear. A. Tube, assy. B. Duct. C. Clip. D. Exchanger, assy. E. Connector. F. Panel. G. Bolt. H. Cable, assy. J. Plug. K. Cover. L. Cover. (Picture from ORD 9 SNL G-259 List of All Service Parts of Gun, Self-propelled, Full Tracked: 155-mm, T97 and Howitzer, Self-propelled, Full Tracked: 8-in, T108.)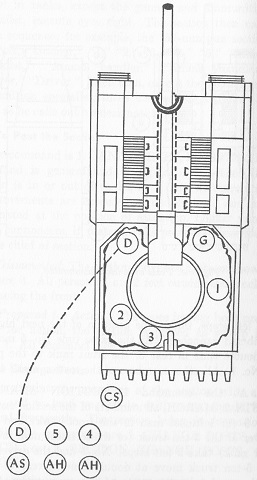 Minus the driver of the accompanying 5-ton truck, the crew of the entire gun section are shown here ready for action. The abbreviations are as follows: D: Driver. G: Gunner. CS: Chief of section. AS: Ammunition specialist. AH: Ammunition handler. The numbered crewmen are cannoneers. Cannoneer number 1 is also the assistant gunner. (Picture from FM 6-93 155-mm Gun M53, Self-propelled and 8-inch Howitzer M55, Self-propelled.)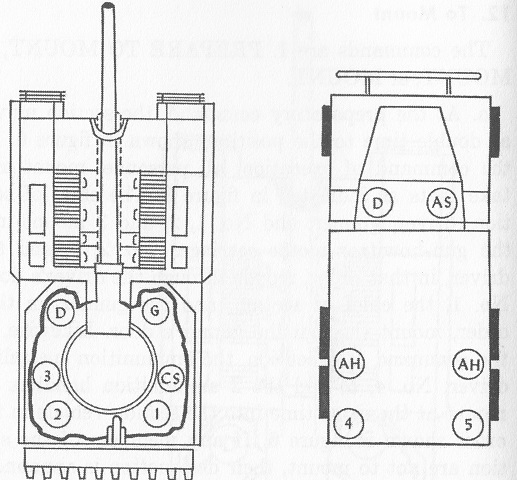 The crew of the gun section are shown mounted in this image. Six men rode in the self-propelled gun, leaving 6 in the truck. (Picture from FM 6-93 155-mm Gun M53, Self-propelled and 8-inch Howitzer M55, Self-propelled.)
---
Last updated 26 Jan 2023.
Questions? Comments? Corrections? Email me
© Copyright 2012-23 Chris Conners