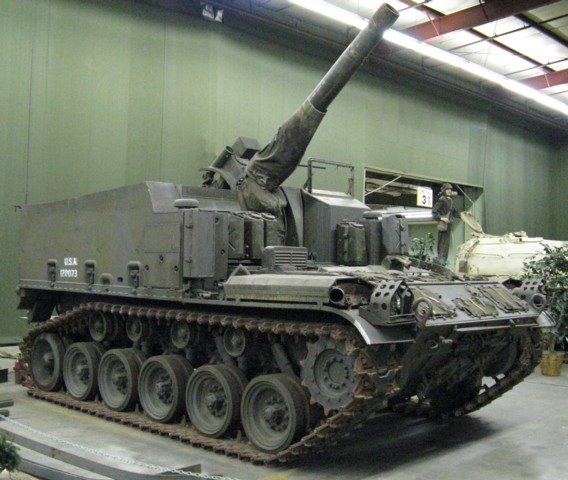 The general layout of the M44 can be seen here, with the barbette superstructure to the rear and drivetrain to the front. There are three cab-to-hull side clamps running down each side of the vehicle, and the external fire extinguisher activation handle is between the front two clamps on this side. The rear idler wheel and rear return roller are larger than the other road wheels and return rollers, respectively. The cylindrical telescope M93 can be seen on the howitzer mount's right side.
The ring mount for the .50cal machine gun is on the vehicle's left side, and the driver's windscreen is mounted on the cab's front left side.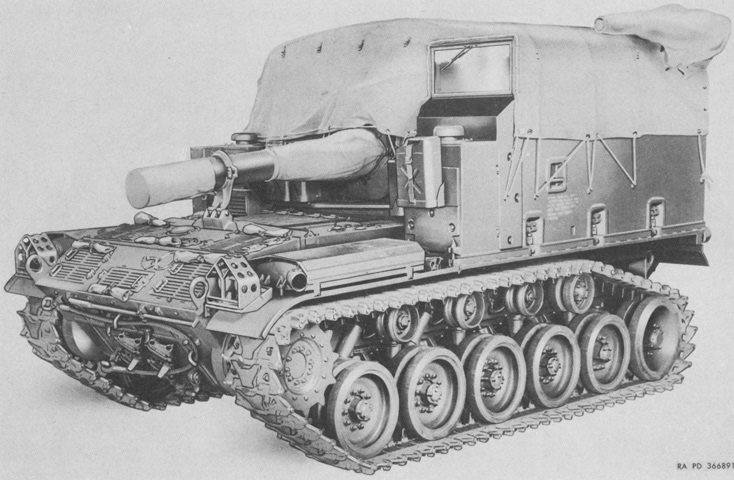 The canvas cab cover and muzzle covers have been installed. The machine gun was protected as well. (Picture from ORD 9 SNL G-279.)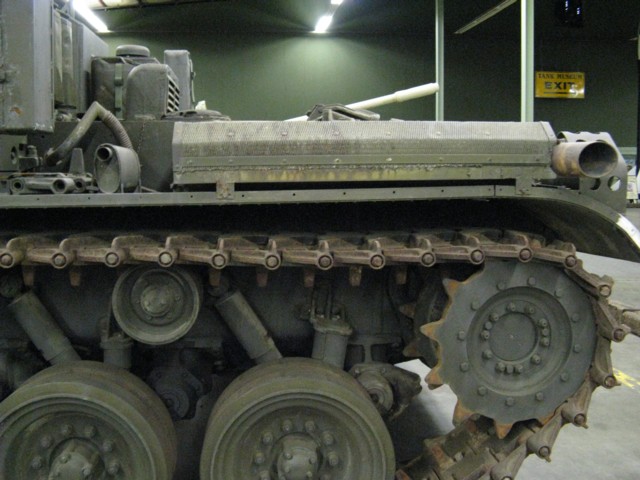 The main engine mufflers were mounted on the vehicle's front fenders, and the muffler for the auxiliary engine was placed behind the right-hand main engine muffler.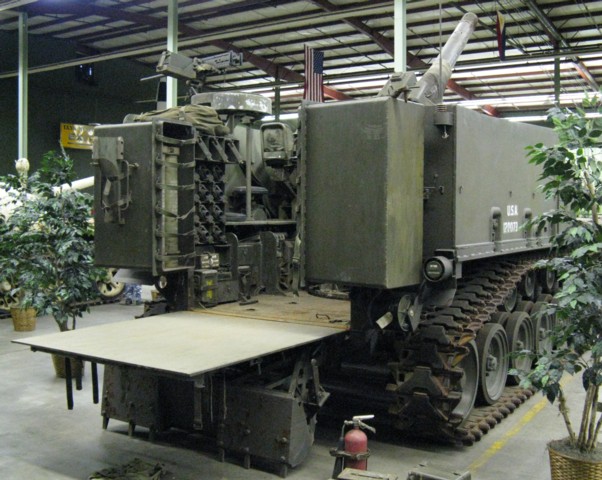 The rear door and recoil spade are lowered on this vehicle. The projectile and propellant charge stowage rack can be seen in the cab's left rear corner, and the loader's and driver's seats can be seen in front of the machine gun mount. Radio equipment is stowed on the floor along the cab's left side.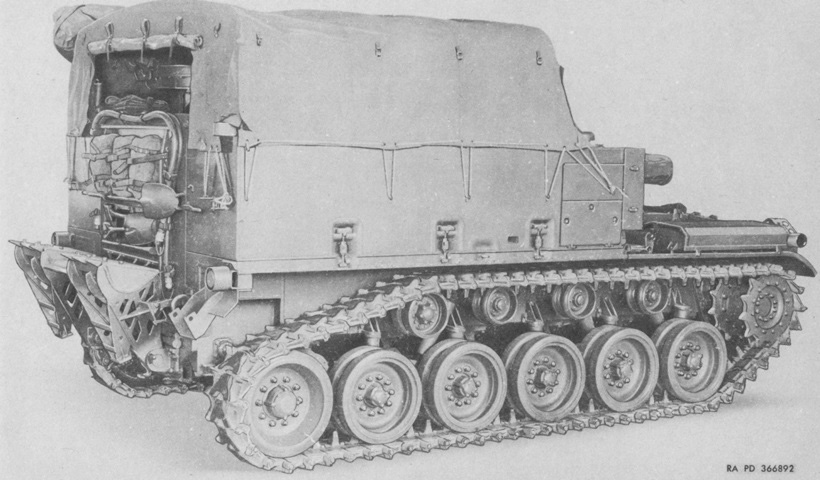 The spade and door are secured on this machine, revealing stowage for pioneer tools. (Picture from ORD 9 SNL G-279.)
A top-down view into the crew compartment is provided here. (Picture from ORD 9 SNL G-279.)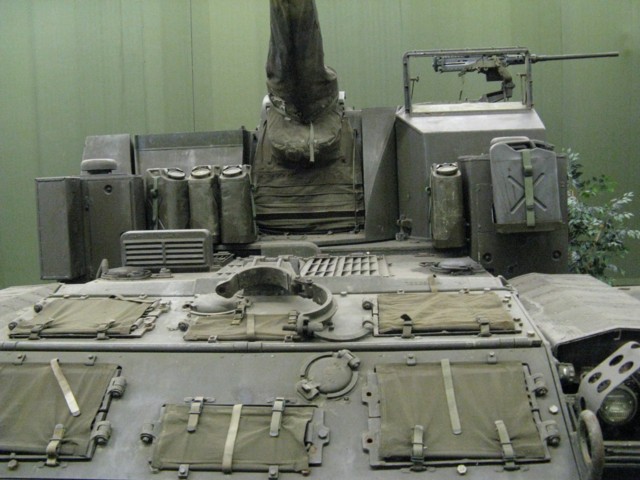 The canvas covers on the vehicle's front slope are covering the engine air intake grilles, while the engine exhaust grilles close to the cab are uncovered. The howitzer travel lock is folded down, and various filler caps can also be seen on the front of the vehicle. The engine's air cleaners are mounted on the front corners of the cab, and their mushroom-like vent breathers can be seen on top of them. The fire extinguisher service door is on the front of the right-hand engine air cleaner box.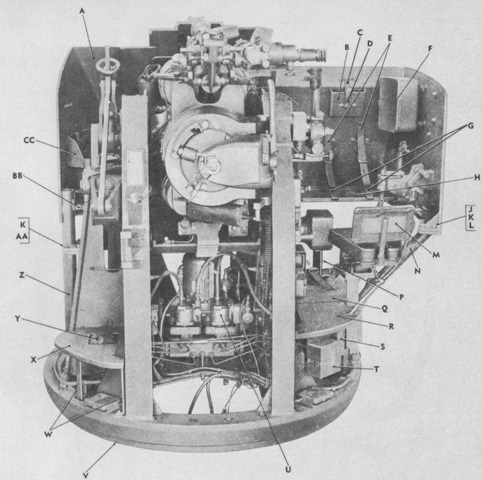 A rear view of the turret and howitzer mount is shown here. The letters refer to a list of part numbers. (Picture from ORD 9 SNL G-279.)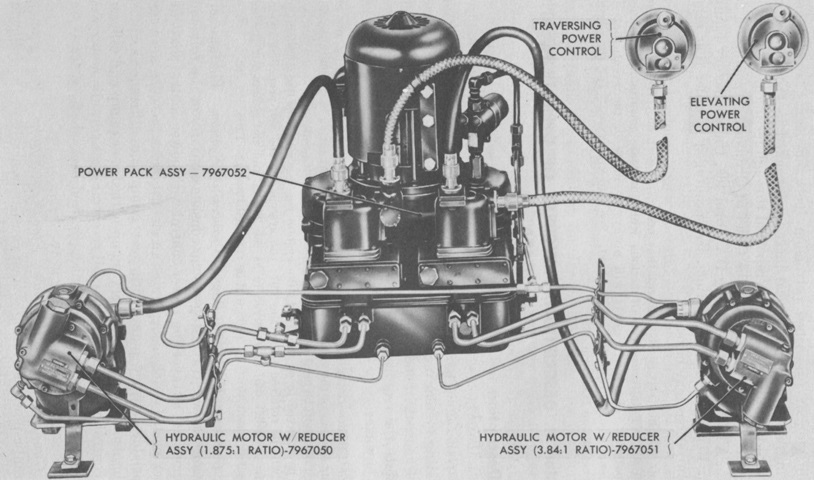 The components of the turret traversing and howitzer elevating system are labeled here. (Picture from TM 9-7205-2.)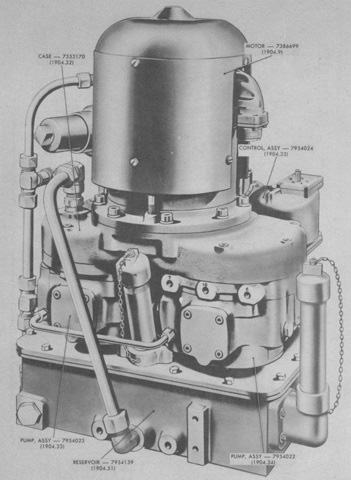 The isolated elevation and traversing powerpack is seen from the front. (Picture from ORD 9 SNL G-279.)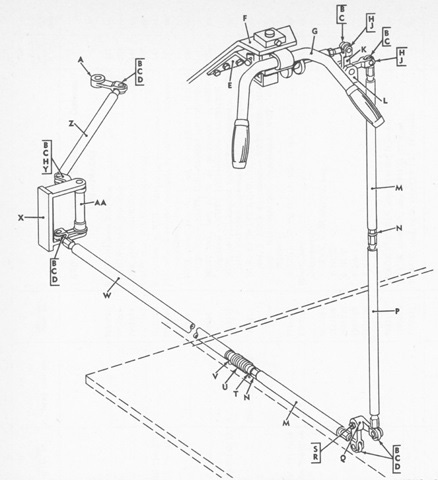 The driver's steering bar differed from that found in the 76mm gun tank M41. (Picture from ORD 9 SNL G-279.)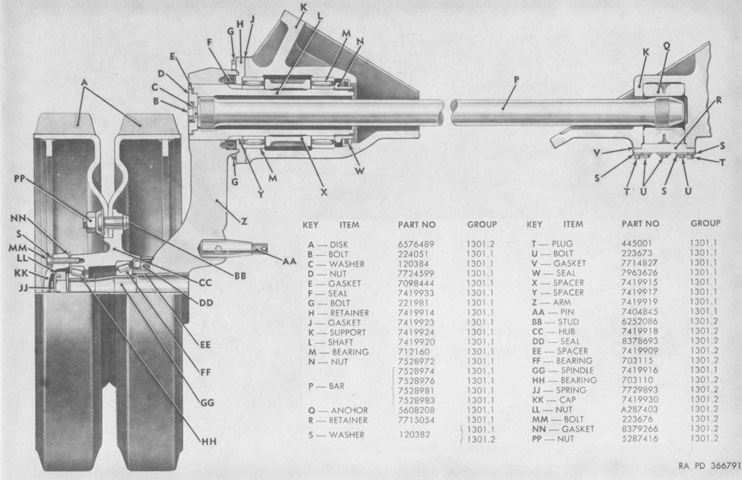 This image shows a cross-section of a road wheel and its swing arm and torsion bar. (Picture from ORD 9 SNL G-279.)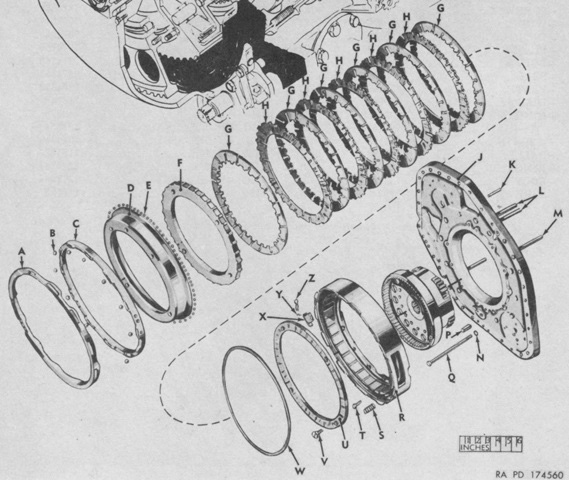 The right-side brake and endplate is detailed in this diagram. "G" and "H" are brake discs. (Picture from ORD 9 SNL G-279.)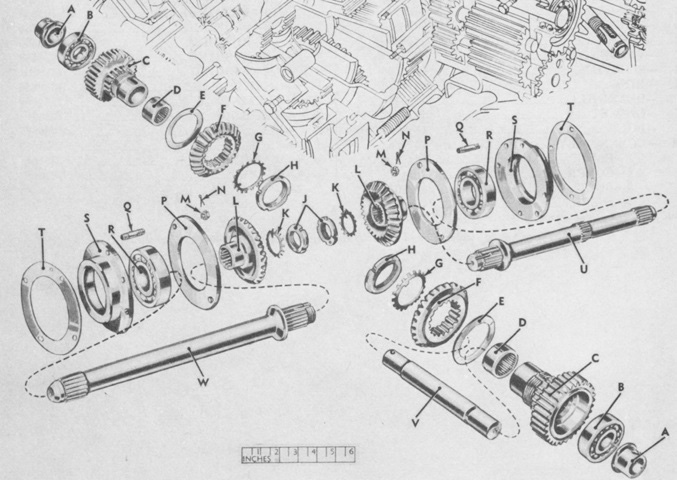 The steering differential is shown in exploded form. (Picture from ORD 9 SNL G-279.)
Final drive components are revealed in this picture. (Picture from ORD 9 SNL G-279.)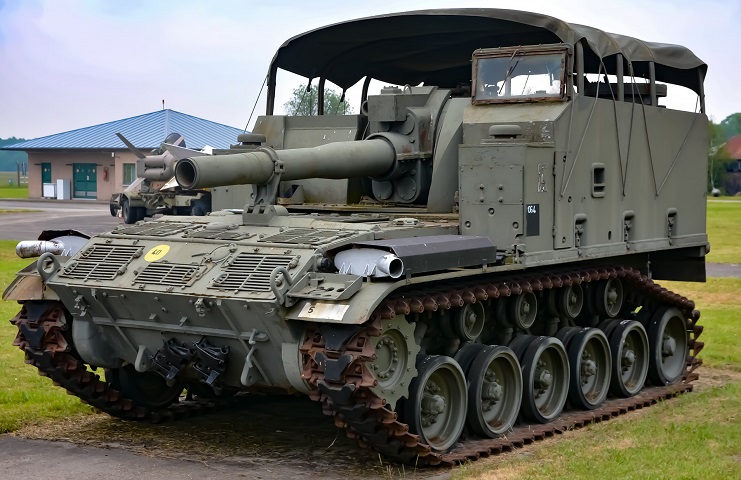 With the crew exposed to the elements due to the open fighting compartment, weather protection was provided in the form of canvas covers. This machine has the bows and top cover mounted, although this one does not provide complete coverage from the weather. (Picture courtesy Gijs Boerendans.)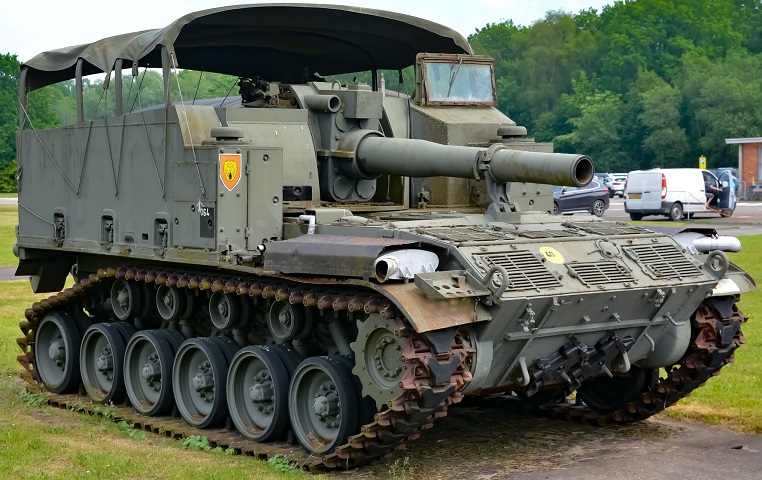 The air intake grilles are uncovered on this vehicle, and the howitzer is secured in its travel lock. The driver's windshield has the glass pane and windshield wiper mounted. (Picture courtesy Gijs Boerendans.)
The mounted positions of the howitzer section are shown here. Six cannoneers were members of the section (labeled 1-6), but only three were able to ride in the howitzer. (Picture from FM 6-92 155-mm Howitzer M44, Self-propelled.)
The section is depicted deployed and ready for action. The other three cannoneers have joined from the support vehicle. (Picture from FM 6-92 155-mm Howitzer M44, Self-propelled.)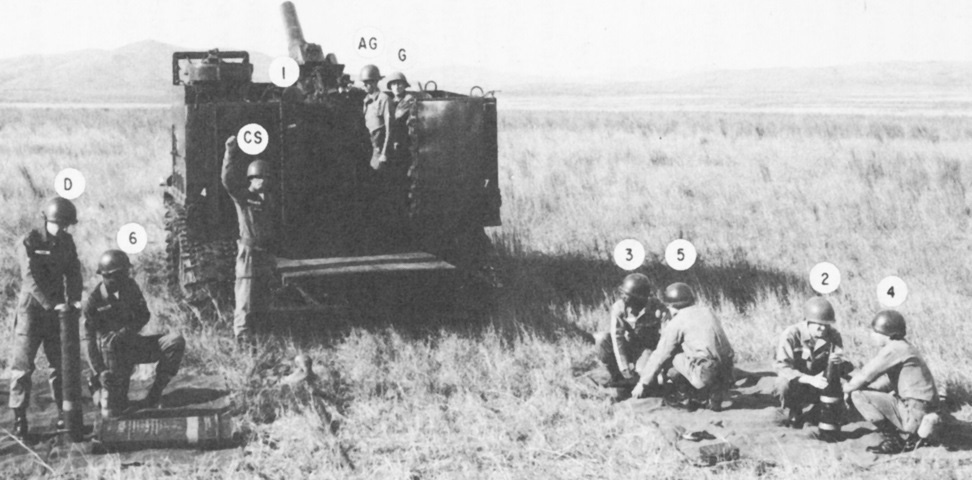 An actual howitzer section is shown here with the ordnance loaded and ready to fire. (Picture from FM 6-92 155-mm Howitzer M44, Self-propelled.)
The panoramic telescope M12A7 was used when laying the howitzer for indirect fire. (Picture from FM 6-92 155-mm Howitzer M44, Self-propelled.)
The telescope M93 was used during direct fire. (Picture from FM 6-92 155-mm Howitzer M44, Self-propelled.)
---
Last updated 19 Feb 2022.
Questions? Comments? Corrections? Email me
© Copyright 2008-22 Chris Conners